Book Adelaide Fringe Shows 2021! Enjoy live music. Many options to choose. New venues. Book at FringeTix!
Firstly, book to see Hits Only Country. A country music theme. You guessed it! A dinner and Show. Hit songs from Willie Nelson. Hear Dolly Parton. Singalong to John Denver. And the best part is the fun costume changes. A two course meal also. Trinity College Pavilion. Phone Brink 0433 223 587 or email smitbr@trinity.sa.edu.au

2021 Adelaide Fringe Shows – Book NOW!
Secondly, the popular Dinner with the Stars Shows. Two to choose from! But guess what? This makes the perfect Valentine's Day gift! Meet the stars of Show Biz. Hear Neil Diamond songs. See Shirley Bassey. Dance to Tina Turner. See Elvis! Party with The Beatles. Recently rated 4 stars (Krystoff). A tasty three-course meal. Book NOW!
Sunday 21 February: Contact Lauren at Mount Lofty House lauren.ivanovic@mtloftyhouse.com.au 08 8339 6777
Saturday 13 March: Contact Stam at Skyline Events info@skylinerestaurant.com.au 08 8216 0388

Adelaide Fringe Shows in 2021!
Thirdly, the Variety Gala Dinner Dance. The best music from every era! 60's and 70's music. 80's and 90's dance songs. A splash of rock 'n' roll. Singalong classics. Hits from the modern era. Pulse band on show! Two shows to choose from. Enjoy a three course dinner. 
Contact Phillip Donato March 5 at The Carrington 0416 229 885 phillip@kthc.com.au or
Brink Smit March 19 at The Pavilion 0433 223 587 smitbr@trinity.sa.edu.au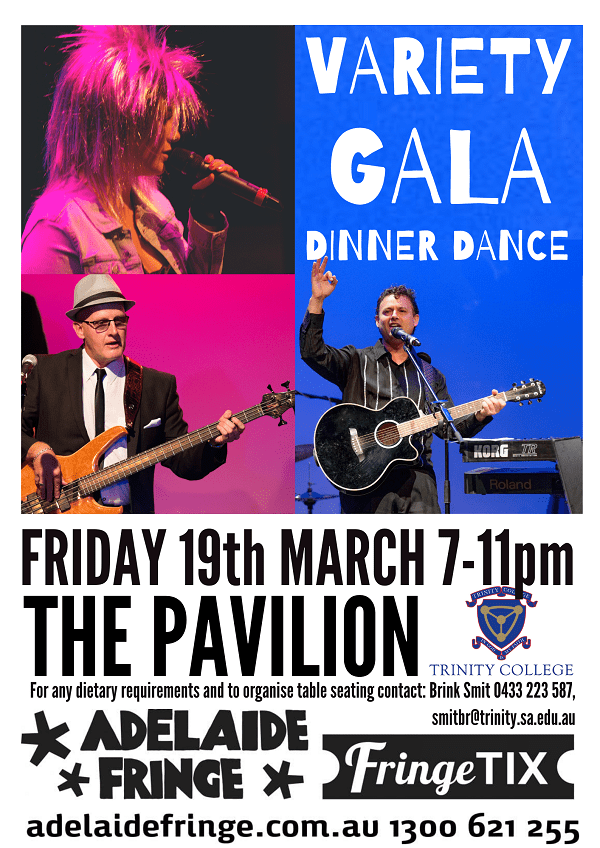 Book NOW! 2021 Adelaide Fringe is here!
Lastly, the Mambo Italiano Show! Try a bit of culture. Songs and dances from Italy! Delicious Italian food. Passionate love songs. Popular hits. A 6-piece band.  Hear live accordion. Feature artists include Dean Martin and Sophia Loren. Songs like 'That's Amore' and 'Volare'. Two shows only! Book as an extra gift idea. Valentine's Day again! Contacts are:
Saturday 6 March – Stam at Skyline Events info@skylinerestaurant.com.au 08 8216 0388
Saturday 20 March – Teresa at B.Social bsocialadelaide@gmail.com 08 8261 7745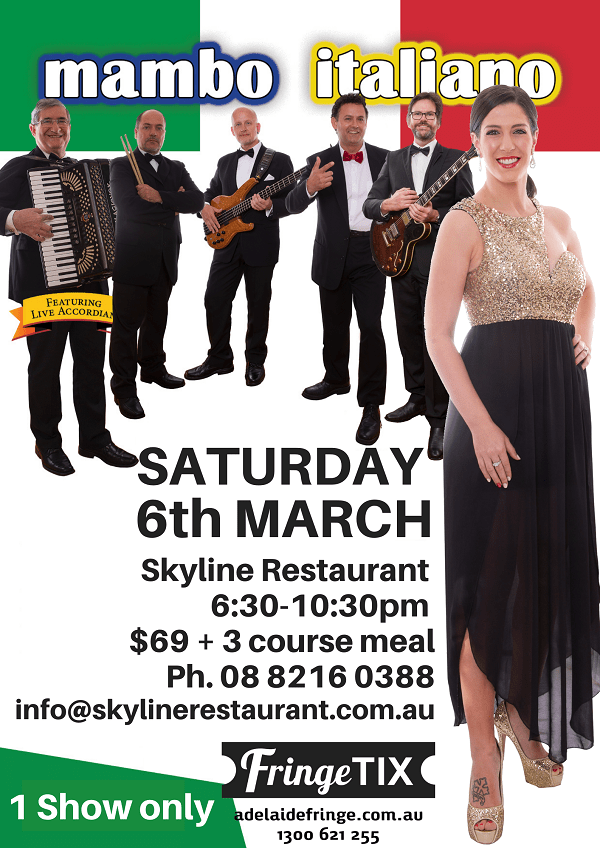 Be entertained! Have fun! Enjoy yourself. You deserve it! Book a 2021 Adelaide Fringe Show NOW!